You are looking for a baby carrier growing along steplessly with your baby not just with respect to the growth in size but also regarding the ergonomic development of your baby?
You want a baby carrier that can be used for a long time and is as individual as you and your baby?
You would like to have a baby carrier that is made in sustainable, ecologic and regional production in Europe at  fair conditions? Here it is!
Buzzidil baby carriers are easy to use, grow steplessly with your baby and offer a maximum of comfort for parents and baby!
All Buzzidil baby carriers: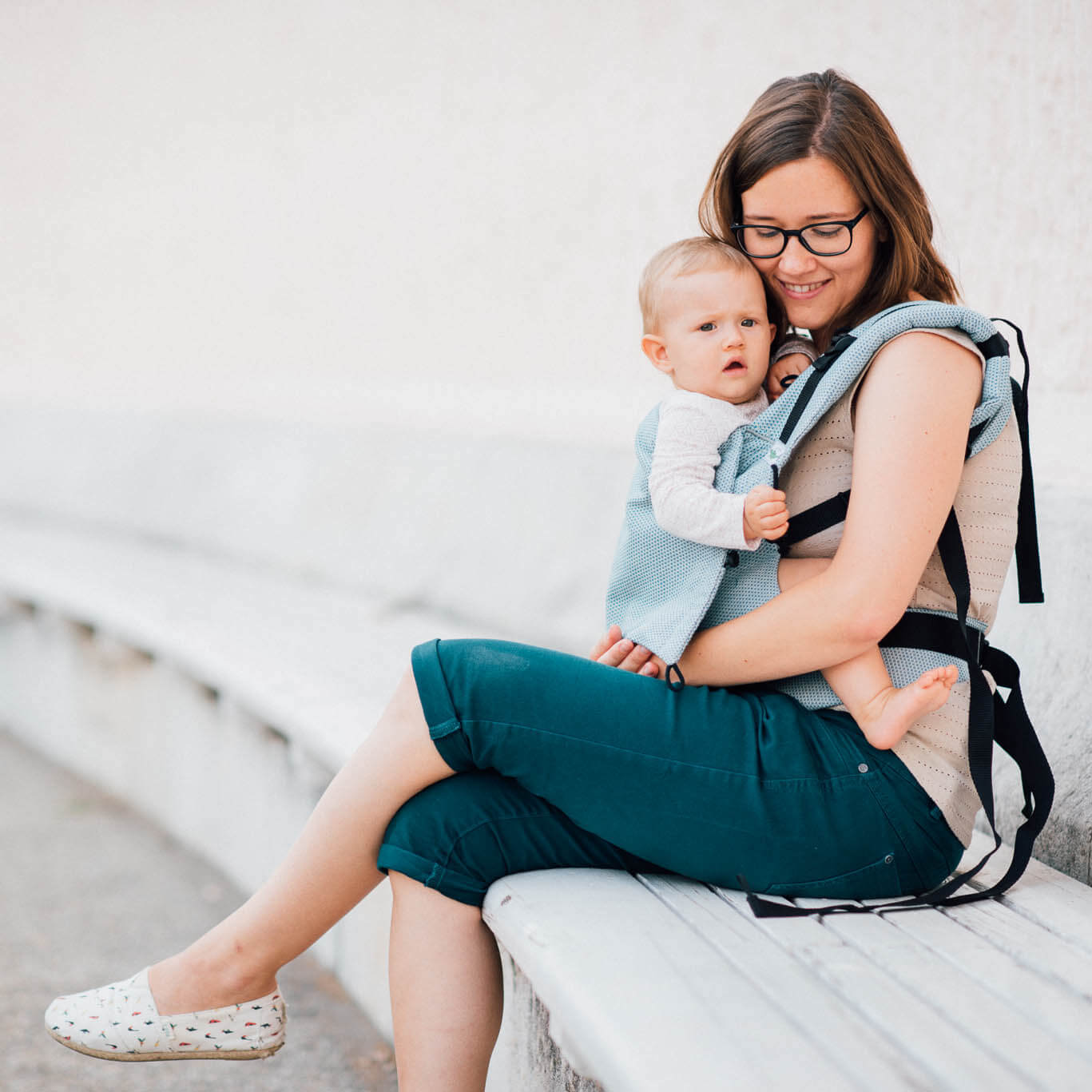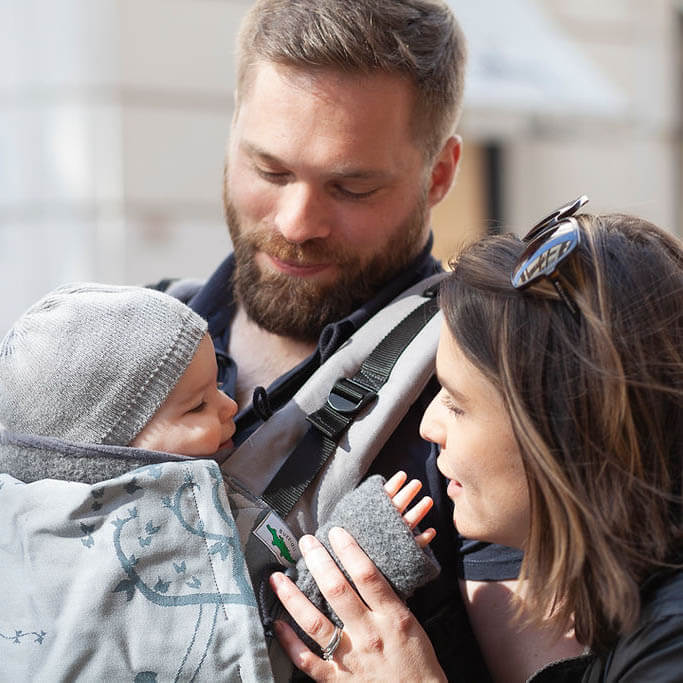 Buzzidil – Mission & Genesis
Since its establishment back in 2010 Buzzidil stands for one thing: Innovation. 
When developping a baby carrier, we always try to go the one important step further in order to offer parents a new solution for their daily issues, in order to make babywearing even more practical and convenient. 
Carrying a baby is more than a parenting trend. It's an attitude: Closeness and security for babies - freedom for parents!
Our mission is to develop the best baby carrier possible, without compromises. Sustainability is one of our core values - with regard to the materials used, with regard to the production in Europe and the way we work and live with our employees. "The compatibility of family and carrier cannot just be a goal to achieve. It has to be inherent.", says Buzzidil founder Bettina Stomper-Rosam, being a mom to four herself. 
Ergonomics for babies
All Buzzidil baby carriers grow along intuitively with the growth of babies - not only in their size but also reflecting their physiologic development. Buzzidil baby carriers are adjusted to the baby right when he/she is seated in the carrier - this makes it possible to adapt it absolutely precisely to the baby. 
Comfort for parents
Finally, babywearing also has to be comfy for caregivers. Buzzidil baby carriers can be adjusted for tiny, for tall, for big and for small caregivers... to adventure on in comfort.
Buzzidil founder Bettina about the start of Buzzidil:
Back in 2010, the year of the start of Buzzidil, I was looking for the ideal baby carrier for my third son, Raffael. I wanted an ergonomic baby carrier, easy and quick to use, with buckles (as I found buckle carriers very comfy for me to use). However, it should be a baby carrier that would reflect and support the physiological development of my baby, that would grow along - as my baby was growing fast. So I started to search for a baby carrier fulfilling my wish-list finding out that there seems to be no such carrier available on the market. So I ended up developing my own baby carrier: Buzzidil.  
Out of my living room into the world
What was meant as a baby carrier for my very own baby turned out to be a small enterprise quickly. On playgrounds, whilst shopping, in my holidays ... other parents asked where I got this baby carrier. The moms I knew also wanted one. Obviously my baby carrier hit right into a market niche. 
Thanks to word of mouth my small family project turned out to be an enterprise. Recommended from mom to mom our baby carriers soon reached Germany, France, Italy, Spain. There were requests from Switzerland and finally we even exported to Chile and Singapore. Nowadays Buzzidil baby carriers are not available in our online store but also at numerous retailers around Europe and even outside Europe.
Why "Buzzidil" ?
Quite often I'm asked how we found the name "Buzzidil". In fact "Buzzidil" was the nickname of my third son whom I developed the baby carrier for. It derives from the Austrian word "Butzi" which is a regional equivalent for baby. 
Buzzidil grows along
Also with my fourth son, Janine, I went on testing, developping, finding new solutions.
Right from the beginning my aim was to develop the ideal baby carrier for my baby and me. I am convinced that this really makes a difference: When working on a product for your very own child your goal is always the best for your child, no bland compromises. For your own child you do not just aim to achieve a part of a growing market, you want to develop the best product.
With little Jannik I have the chance to test all developments of the recent years again. And I have the chance to develop new baby carrier solutions. Each baby carrier by Buzzidil is unique in its own way. I'm not interested in producing the fifth baby carriers available on the market already. My goal is to always think one step further, to solve a problem parents have with existing baby carriers. 
With Buzzidil back in 2010 this one step further was its intuitive and effective growing mechanism and the idea to fix shoulder belts alternatively on the back panel or the hip belt (reflecting the ergonomic development of babies). With this ideas Buzzidil was a pioneer on the babywearing market. 
BuzziBu is not just an Onbuhimo - you can transform it within seconds to a comfy buckle carrier, with just one small buckle. 
Wrapidil is the Wrap Tai / Bei Dai that can really grow along from newborn up to 4 years without compromises and without changes of size. 
BuzziTai finally is a Mei Tai / Meh Dai that accompanies baby's growth over 2 years and that offers the possibility to make it a buckle carrier for bigger babies offering a comfortable weight distribution. You don't need any inserts or elements to turn it into buckle carrier. 
There are many more and hopefully helpful ideas for parents waiting for their realization. Creativity happens where others think that product development is completed. 
Impressum | Imprint
Buzzidil GmbH
Gaudenzdorfer Gürtel 43-45 / 0C
1120 Wien | Vienna
Österreich | Austria
M: office@buzzidil.com
T: +43 650 2404892 (Mo - Fr 9:30 - 12:00 Uhr)
UID|VAT: ATU 68838449
CEO | Geschäftsführung: Dr. Bettina Stomper-Rosam, ClauWi-Trageberaterin
FirmenbuchNr | Commercial Register No: 418949b, Handelsgericht Wien
Mitglied der Wirtschaftskammer Wien | member of the Vienna Chamber of Commerce: www.wkw.at
Gewerbeordnung abrufbar unter www.ris.bka.gv.at
Unternehmensgegenstand: Herstellung und Vertrieb von Babytragevorrichtungen
Zweck der Website ist die Information über das Tragen von Babys und Kleinkindern sowie das Angebot einer Babytragevorrichtung
Purpose: Production and sale of babycarriers. Purpose of this website is to inform about our products and about carrying babys. 
Die Buzzidil Baby- und Kleinkindertragen geschützt.
The Buzzidil babycarriers are protected under patent law.