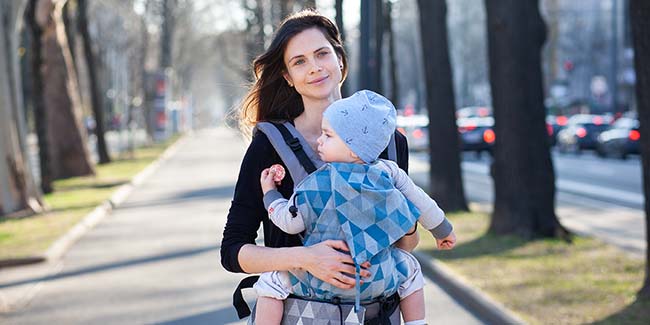 .
What is an ergonomic buckle baby carrier (Fullbuckle / SSC)?
A fullbuckle is a baby carrier that is closed completely with buckles: no tying, just attached with two clicks. Fullbuckle baby carriers impress with their ease of use and the comfortable redistribution of the baby's weight from the shoulders to the hip belt. With a full-buckle baby carrier, you can carry your baby in no time. You don't have long fabric loops lying on the floor and you don't have to knot anything. Click'n'go - that is the principle of a buckle baby carrier.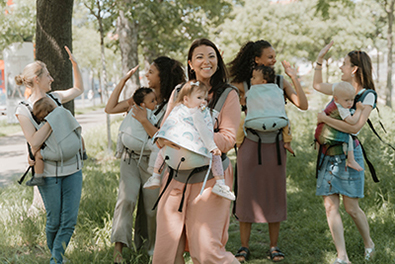 .
Which baby carrier is best for you?
Buzzidil Buckle Carrier (SSC) is the right choice for you if...
you are looking for a simple baby carrier that you can put on quickly
you find it too complicated to tie long shoulder straps
your baby likes to be carried a lot and for a long time
you want to carry your baby safely in front of your belly, on your back or on your hip
you want to transfer the weight of your baby from your shoulders to the hip belt
you don't want long straps to tie, which lie on the floor when you put your baby in the carrier
you want to simply carry on with the settings from the last time you used it
.
What makes the Buzzidil Full Buckle so special?
Buzzidil grows easily in 1 step. This "1-step-easy-adapt" solution of our baby carriers is easier than any other: with only one (1) adjustment you can easily let it grow with your baby:

With just one (1) adjustment, you can adapt the height and width of the back part of our baby carriers to your baby's size. This works with a simple drawstring - so no velcro, no knotting, no fiddling.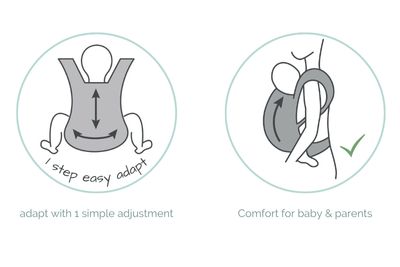 And the best thing is: you can adjust your Buzzidil exactly whilst your baby is seated in the carrier. This means you can adjust the fit with absolute precision. We show you how easy it is to adjust the Buzzidil in our quickstart tutorial. 
With BUZZIDIL babywearing is easy.
.
Ergonomic baby carriers that grow with your baby
BUZZIDIL Full Buckle baby carriers are available in 3 sizes. Each one grows continuously with your baby over many months. This allows for a healthy squat-spread posture and an ergonomic position for the entire carrying time.


Buzzidil Babysize fits from birth on from 0 - 18 months.
Buzzidil Standard fits from approx. 3 to approx. 36 months.
Buzzidil XL fits from approx. 8 months to approx. 4 years.

BUZZIDIL has another special feature: the shoulder straps are attached to the hip belt until your baby is able to sit, thus avoiding punctual pull or pressure on the still sensitive back of a newborn. Once your baby's back is more advanced, you can attach the shoulder straps to the back panel at around 6 - 8 months. This Buzzidil invention has the great advantage that the weight of your child is transferred from your shoulders to the hip belt, so that you can still carry your larger baby carrier comfortably for a long time, even if it weighs 10 kg (and more).


Wearing with Buzzidil is cosy and healthy for your baby and comfortable for you!
.
3 Carrying Positions: Front Carry, Back Carry, Hip Seat
You decide whether you want to carry in front of your belly (recommended for newborns!), on your back (possible from approx. 3 months) or on your hip (from approx. 4 months) - this means that every ergonomic carrying position is possible with just one carrier and you are ideally equipped for every carrying situation.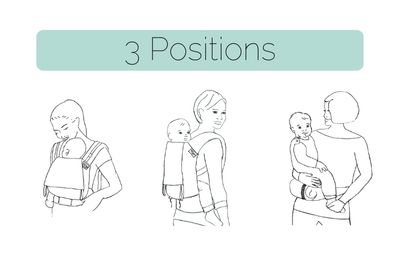 -
Carrying facing out?
We recommend that you do NOT carry your baby facing forward (i.e., in front of your tummy facing forward). There are 6 good reasons for this:


Your baby will come into a hollow back - but it's the rounding in and cuddling up that is good for baby's back.
The squat and spread position, which supports healthy hip development, is only possible to a limited extent.
If baby's legs stick out, there is a risk of injury from careless passers-by.
Your baby is helpless in the face of stimuli; it cannot turn away and snuggle against you.
When falling asleep, your baby can only see the road; if you carry her/him facing towards you, she/he can lean on you and see you while falling asleep.
Carrying your baby facing forward shifts the weight of your child further away from you through its legs - this makes carrying harder for you, you go into a compensatory posture and back pain is thus pre-programmed.
.
Sustainable Production in the EU
We make baby carriers to offer babies the very best start into life. This includes that we take care of sustainability - the way we produce goods has a direct impact on the future of our kids.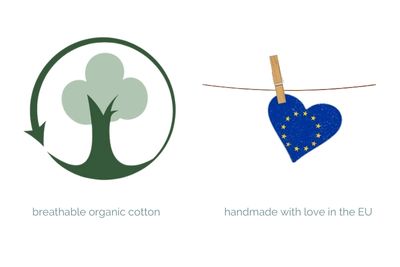 That's why we use organic cotton for our baby carriers. We do not use synthetic fibres or polyester mesh for our baby carriers. We want natural fibres to wrap around your baby. In this way, we can also contribute to preventing more microplastics from washing synthetic fibre products from ending up in our rivers, lakes and oceans, and ultimately in our food.

All Buzzidil baby carriers are hand-sewn in the EU. We can ensure short delivery routes and regional production under humane working conditions along the way. 
For your baby, for you, for our future. 

-

.

Insecure which baby carrier is best for you and your baby?

Our babycarrier guide helps you to choose! 

.

Wanna know who we are and where Buzzidil baby carriers come from?

Read more about us and our sustainable production in the EU!