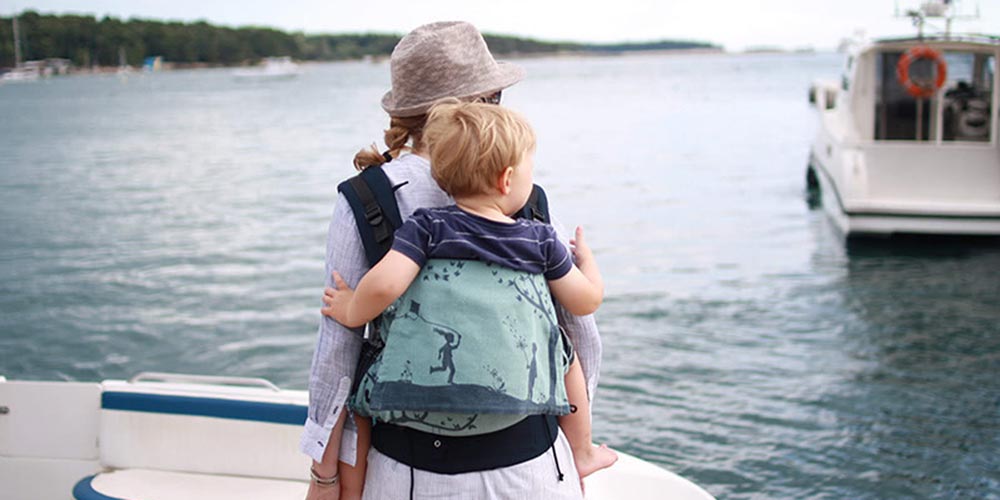 .
Preschooler Kid Carrier – Hiking Carrier, Excursion Companion, Everyday Hero

Buzzidil Preschooler is a lightweight alternative to the classic hiking carriers with metal frame. With a weight of only 900g (1.9 lb), the Preschooler is much lighter than a hiking harness, folds up small and fits into any backpack. Practical: You can also simply roll up our child carrier and use it as a quick hip seat.

As a buckle carrier, the Preschooler is closed with two clicks - no tying is necessary. In no time your child is sitting ergonomically in the carrier and the adventure can begin!

Made in the EU from breathable cotton, the Buzzidil Preschooler promises really comfortable babywearing: on hikes, trips, excursions or simply in everyday life with toddlers, because small feet get tired before big ones do.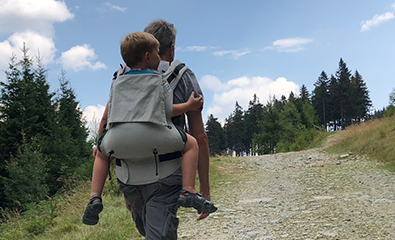 .
Carrying toddlers aged 18 months and more

Carrying your little one brings many advantages for your family life: 
full freedom of movement - in public transport, on excursions, but also in everyday life
your child can discover at eye level, even in crowded shopping centers or at Christmas markets
it's an extra portion of closeness, safety and security for your little one
the adventure can go on even if your child's feet need a little break
you can move on in a more relaxed way - hikes are not a torture for you or your child
if your child is sick, carrying brings proximity and relief!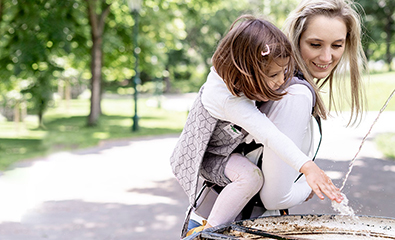 .
.
How long should you carry your child?
Often, babywearing parents hear the phrase, "How long are you going to carry your child?" The clear answer is: as long as it takes.

Parents know: even if your little one is already walking and is good on his feet - little feet simply get tired faster than big ones. Especially during outdoor activities, families with small children regularly reach the point where the child is too tired to continue walking. And that, often faster than expected.

Our Preschool child carrier is the convenient solution here - save yourself tedious discussions or carrying on your shoulders, which is neither good for your spinal discs nor ergonomic for your child.
.
Preschool Kid Carrier - your alternative to usual hiking carriers with metal frame

The Buzzidil Preschooler is the right choice for you when…
you are looking for a comfy carrier for kids aged 18 months and up
you want to be very active with your child
you want to avoid discussions with your tired toddler after an afternoon at the playground
bulky metal frame carriers are too heavy and uncomfortable for you
you want especially good surefootedness when hiking (weight distributes around your hips and not around your shoulders which offers a better balance point)
you are looking for a lightweight carrier with a small pack size
you want to carry your child in front of your belly from time to time (e.g. when your child is sick or the next coffee with sleeping toddler is just around the corner)
you also want to use your carrier as a quick hip seat. Yes! This is also possible with the Preschooler with an inexpensive hip seat accessory, the Rollfie.
.
Carrying toddlers - back-friendly and comfortable
Buzzidil Preschooler was developed for active families who like to be out and about with their children: In the forest, on the mountain, hiking, on vacations - a bulky hiking metal frame carrier is not always the ideal companion. That's why we've developed a carrier for kids aged 18 months and up that's not only perfect for back carrying, but is also lightweight and super comfortable.

The shoulder straps of the Preschooler are curved - giving you even more comfort when carrying your child on your back. The weight of your little one is distributed perfectly to the comfy padded hip belt.
With the Buzzidil Preschooler you can carry your little one on your back but you can also cuddle with your child in front of your belly - and you can use it as a hip seat. All you need to do so is a small accessory piece.

In addition, there is a small pocket on the ergonomically padded hip belt so that diaper, cell phone or wallet are always within reach.
.
3 Carrying Positions: Front Carry, Back Carry, Hip Seat

You decide whether you want to carry in front of your belly (always good when your child is sleeping and you want to sit down), on your back (for longer distances) or on your hip (e.g. at the playground) - this means that every ergonomic carrying position is possible with just one carrier and you are ideally equipped for every carrying situation.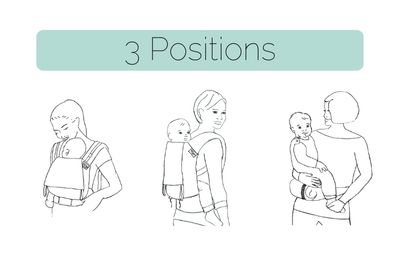 -
What makes the Buzzidil Preschooler so special?

Our Preschool child carrier is one of the largest buckle carriers on the market and therefore extra-long usable - up to 6 years and longer.

Buzzidil "grows easily with your child in 1 step". This 1-step-easy-adapt grow-along solution of our baby carriers is easier than almost any other:

With just one (1) adjustment, you can adapt the back part of our baby carriers to your child in height and width in seconds. This works in seconds by means of a simple drawstring - so no Velcro, no knotting, no fiddling.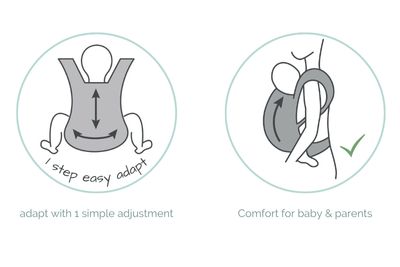 And best of all, you can adjust the Buzzidil precisely while your child is in the carrier - absolutely accurately.  

With Buzzidil, babywearing is easy.
.
Plastic-free where it makes sense
At Buzzidil, we make sure that plastic is only used where it is really necessary and makes sense. That's why your Buzzidil Preschooler is made of natural fibers, because we don't want microplastics ending up in the water with every wash - and we rely on 100% breathable organic cotton, which is naturally tested for harmful substances. Why? Because babies and toddlers often suck on their carriers. Pesticides have no place there!

On the other hand, we use high-quality plastic safety buckles. Why no metal? Because with metal the ecological footprint of the extremely energy-intensive production is higher than with our recyclable plastic buckles.

For the hip belt padding, we use a foam that has also proven itself in medical prostheses: stable, dimensionally strong, tested for harmful substances and really relieving. Unfortunately, we have not achieved such good results here with bamboo fleece (not stable enough) or coconut (too hard, long delivery routes).
.
Sustainable Production in the EU

We make baby and child carriers to give children the best start into life. This also means that we pay attention to sustainability in manufacturing - because this also has a direct impact on the future of our children.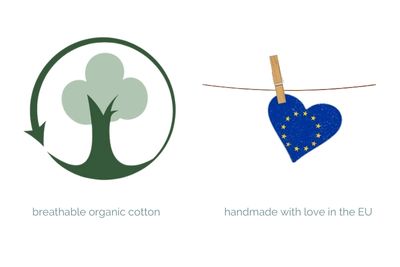 That's why we use organic cotton that has been tested for harmful substances for our baby and children's carriers. We refrain from using synthetic fibers or polyester mesh in the fabrics for our carriers. We want natural fibers to envelop your child. In this way, we can also help prevent more microplastics from washing synthetic fiber products from ending up in our rivers, lakes and oceans, and ultimately in our food.

All Buzzidil baby carriers are hand-sewn in the EU. We can ensure short delivery routes and regional production under humane working conditions along the way.


For your child, for you, for our future.  


-

-

Not sure which baby carrier suits best for you and your little one?

Our Baby Carrier Advisor helps with your choice! 

You wand to know more about Buzzidil?

Here we inform about us and our sustainable manufacturing in the EU!