MyTai - MehDai Babycarrier
free dispatch for EU consumers with GLS from 99 EUR 
What is a Mei Tai Baby Carrier? 
A Mei Tai (originally called Meh Dai) is a baby carrier consisting of a back panel made from fabric in which the baby is positioned and long shoulder straps to knot. The hipbelt is either made from strap belts to knot or can be closed with a buckle (in this case the baby carrier is also called "Halfbuckle"). 
In relation to a woven wrap a Mei Tai is really easy to knot and therefore is a baby carrier for babywearing beginners. It's particularly popular for carrying newborn babies.
.
What are the Advantages of a Halfbuckle Mei Tai?
The hipbelt of a halfbuckle Mei Tai is closed my means of buckles. As a result the hip belt can be put on more quickly and it is also very easy to tighten or loosen. The MyTai from Buzzidil is a halfbuckle Mei Tai.

The half-buckle carrier has one big advantage: when breastfeeding in the carrier, the buckles of the hip belt can be loosened slightly to lower the baby to chest level. This means that the baby carrier does not have to be undone.
.
How does a Mei Tai work? 
Your baby is newborn or younger than 6 months: Put the waist belt around your waist. Is your baby bigger already, you can close the belt around your hips.  Let the back panel hang down centered, in your front. Lift your baby up in front of your tummy and make sure to hold your little one centered in your front. Pull up the panel of the Mei Tai baby carrier over your baby's back. Put the shoulder straps on your shoulders. Grab both shoulder belts in your back in one hand and pull them down to tighten the carrier. You can then use your second hand, too. Grab the shoulder belts in your back and cross them behind your back. Keep the tension and bring the shoulder belts forward under your baby's legs. Knot the belts right under your baby's bottom. Here is also a video tutorial how to front carry with a Mei Tai.
.
The best baby carrier for you? - MyTai is perfect for you,
when…
you are looking for a very simple baby carrier for beginners.
you would like to wrap like in a sling, but are not quite comfortable with a sling.
you want to put on your baby carrier in a blink of an eye
you want to combine the advantages of a sling with the simplicity of a baby carrier.
you want to use the sling with your partner, but you are of very different statures (e.g. petite mum, big dad).
.
What makes Buzzidil MyTai so special?
The Buzzidil MyTai is a simple entry-level baby carrier for parents that is even forgiving when it comes to tying mistakes. Why? Because everyday life with a baby is often stressful enough. Especially when your baby fusses tying often doesn't work 100%. No problem with the MyTai!

If you notice that you didn't tighten the straps properly this time, the MyTai has a unique solution: small buckles on the shoulder straps make it easy to retighten shoulder belts without undoing them. This is also great if you carry it under a jacket in spring, autumn or winter. Simply tighten the buckles and the carrier sits perfectly!
.
Continuously Growing Mei Tai Baby Carrier - Ergonomic Squat Spread Position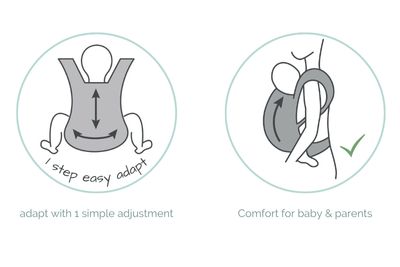 Buzzidil MyTai "grows with your baby in one step". The 1-step-easy-adapt solution of our baby carriers is simpler than almost any other solution: with just one (1) adjustment, you can adapt the height and width of the back part of our baby carriers to your baby. This works with a simple drawstring - so no velcro, no knotting, no fiddling.

And best of all, you simply adjust it while your baby is sitting in the carrier. Easy and absolutely quick. This way, your MyTai grows continuously with your baby over many months from birth up to 2 years offering your baby an ergonomically correct squat spread position (M-position).

So you can adapt the MyTai to your baby with absolute precision. In our Quickstart-Video we show you how to carry your baby perfectly in the MyTai in just 50 seconds.
.
3 Babywearing Positions: Front Carry, Back Carry, Hip Carry
You decide whether you want to carry in front of your tummy, on your back or on your hip - with the MyTai you have complete freedom in how you and your baby enjoy your babywearing journey.

You want to know how it works? Here you can find our Instructions Manual with pictures and our Video Tutorials! 
.
Sustainably handsewn in the European Union from organic cotton
We make baby carriers to give babies the best start into life. This includes paying attention to sustainability as this has a direct impact on the future of our children.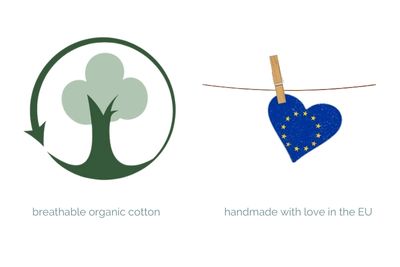 This is why we use organic cotton that has been tested for harmful substances for our baby carriers. We do not use synthetic fibres or polyester mesh in the fabrics for our baby carriers. We want natural fibres to embrace your baby. In this way, we can also contribute to avoid more microplastic landing in our rivers, lakes and oceans from washing synthetic fibre products in the washing machine.

All Buzzidil baby carriers are hand-sewn in the EU. We can ensure short, ecological supply routes and regional production under humane working conditions.
For your baby, for your, four our planet. 
.
.
.
Not sure which baby carrier is best for you?
Our baby carrier advisor helps you to choose the right baby carrier!
.
You want to know more about Buzzidil?
Get to know us and find more information about our sustainable EU production!